Login
Log in if you have an account
Register
Having an account with us will allow you to check out faster in the future, store multiple addresses, view and track your orders in your account, and more.
Create an account
Why dive with a drysuit?
16 Jun 2019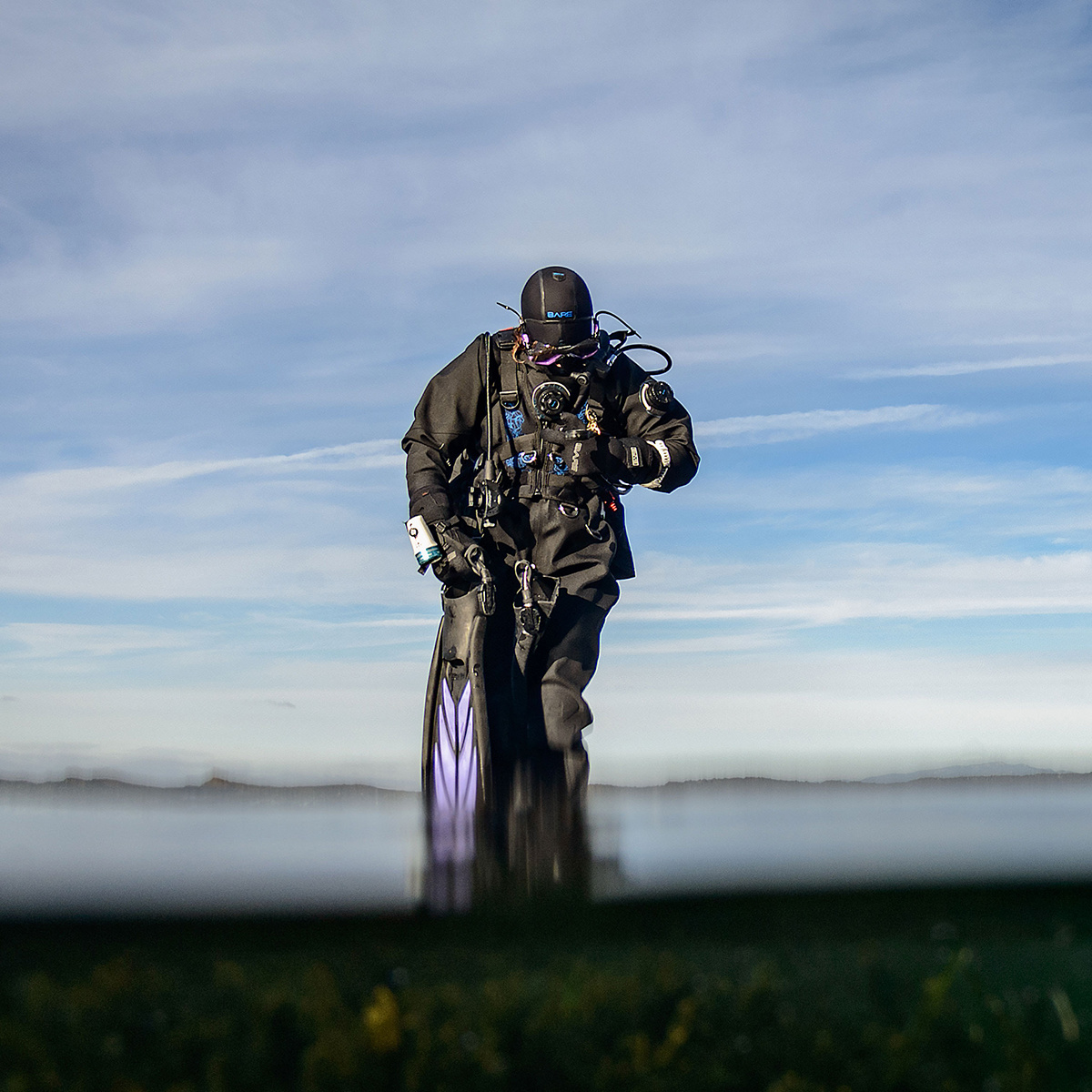 In scuba diving, we spend the majority of our time underwater, but getting in the water does not necessarily mean getting wet! Diving in a tuxedo? Well yes. But thanks to drysuit technology, who would have thought this was possible? There are plenty of benefits to diving in a drysuit and the experience in itself is worth it. It is precisely because we spend so much time underwater that we should be as comfortable as possible, so considering all the options available to us can be interesting and help to make the best choice according to your needs.
Why dive with a drysuit?
Some might think; more equipment? Why would I need it? And to that I would answer that it is not actually more equipment and that a drysuit serves the same function as a wetsuit, to keep you warm. Whether you use a wetsuit or a drysuit, it comes down to the same level of space and comfort needed. Of course, if you only dive in the South and you use a 3mm wetsuit, it's different and a drysuit may take more space, but between a 14 mm and a drysuit, there is no real difference. In Quebec, diving with 3mm is unusual and reserved for a select club of particular warm people. Most of the time, it's a 14mm wetsuit used to dive .. Personally, I did all my training in drysuit except for my Rescue Diver course because it happens mostly outside of water, but I still have gone diving several times in a wetsuit. The major difference is that a 14 mm is really thick and is made of neoprene that contains lots of small air cavities. It is precisely this that allows you to isolate yourself from the cold water and keep your body heat. I find that at the level of mobility, a 14 mm is really bulky and in the water I float without difficulty, or even too much ease. A drysuit is obviously bulky too, but since it's a bit like a bag that you can fill with air, I think it's better than a 14mm wetsuit in terms of mobility since it's really a layer material glued to your skin, obviously it depends on the layers of clothing you wear below.
The wetsuit allows you to stay warm by warming a thin layer of water between your skin and the neoprene while for drysuit, it's air that isolates you from cold water. Obviously, you have a layer of warm clothing underneath and the drysuit itself is made of trilaminates, several superimposed and compressed fabrics, or neoprenes, but it's really the air that is the main insulator. Of course, a drysuit keeps you dry and wrapped in warm clothing throughout your dive to be comfortable no matter what you're exploring and for how long. Contrary to what you might think, neoprene keeps you warm and depending on the conditions and the type of wetsuit you are using, it may keep you warmer than a drysuit during your dive. However, even if a drysuit keeps you warm, its utility comes from the fact that when you leave the water, you are still dry and you keep your body heat unlike the wetsuit which is no longer of great use. For multiple dives, this is the biggest advantage of the drysuit, being able to stay dry between dives and not just cool a little more each dive to finish frozen at the end of the day.
Diving in dry is complicated?
A drysuit, is not very complicated to use, as I already mentioned it is neither more nor less than a bag to which you add air when you feel uncomfortable because of the pressure or if you are cold. Your first stage is connected to the suit by a hose and you just have to press a button prominently on your chest to inflate the suit a little. To remove air, there is a valve on the left shoulder that allows to evacuate up the arm to let the air back to the surface.
Diving with a drysuit is not more complicated than that! Except that it requires more training since it is diving equipment that you have never really used and you must give yourself the chance to familiarize yourself with it to be comfortable diving. I think it's worth it, especially if you're going to be diving in Quebec, regularly, or just doing your training here. It's an extra experience as a diver and it's by exploring new elements of scuba diving that you get better. Getting out of your comfort zone is often a good thing and allows us to learn. In addition, our beautiful province does not have the most temperate waters and it is an ideal climate to use a drysuit to its full potential because you can use it in the South too, but it is even more efficient in slightly colder waters.
The course itself is fast and just read a small manual of forty pages, pass a small evaluation and dive! Nothing too complicated, in addition if you take your Open Water Diver and Advanced Open Water Diver lessons with us and you do your dives in drysuit, we can certify you without having to do additional dives because you have handled the combination enough to be certified. Diving in a drysuit is practical and being certified does not prevent me from diving in a wetsuit at given times, but at least I have the opportunity to choose and adapt to conditions, lengths of dives, and wanted comfort. That's why, at Total Diving, we introduce our students to the Open Water Diver course by having you try the combination in the pool and offering to make your certification using it. As long as you dive and follow a course, you can learn as much as you can by learning as much as you can in the future.
To have a dry, what does that imply?
It is often said that a drysuit is much more expensive than a wetsuit, but this is not necessarily the case. As with all things, there are more fancy and sought-out models than others, yet even without necessarily choosing a neoprene or Kevlar model, a basic model that does everything you need like the Aqualung Fusion One is affordable. The price is actually comparable to that of a 14mm wetsuit. In addition, if you buy a drysuit with us, you receive the included course with the drysuit, because after all, what's the point of buying a piece of equipment that you do not know how to use? Anyway, if you have already taken classes with us, chances are you have already tried a drysuit.
In terms of maintenance, there is nothing very complicated either, just like a wetsuit, you have to clean your dry suit. You can use a mixture of water and laundry detergent to spray the inside after turning it upside down, just let it dry and turn it upside down. It's quite simple, in terms of seals wrists, have a spare pair is always practical, otherwise just be careful putting them and several people have tips for putting them on more easily, by putting some lubricant on the wrist for example.
No matter what kind of diver you are, I think drysuit is an interesting option and offers a nice alternative to wetsuit. There are no downsides to giving drysuits a try anyhow, besides it is widely known that to try it is to adopt it.
WHO IS TOTAL DIVING
Since 1975, Total Diving has continued to provide exceptional services to the scuba diving community. We are the Canadian leaders in diving, and have been Aqua Lung and Apeks' #1 retailer for the last four years. Our online store provides you with everything you need, without having to come by our signature flagship location in Montreal. As a diving school, we teach our students with great care, and as a world-renowned PADI Career Development Centre, we develop outstanding instructors and divemasters. Stay up to date with diving news, products, and the Total Diving community by reading our blogs. We aren't just a store, we're a family that only gets bigger with each new diver.
Leave a comment