Login
Log in if you have an account
Register
Having an account with us will allow you to check out faster in the future, store multiple addresses, view and track your orders in your account, and more.
Create an account
The Divemaster Chronicles, Chapter 5: The Divemaster life
21 Jan 2020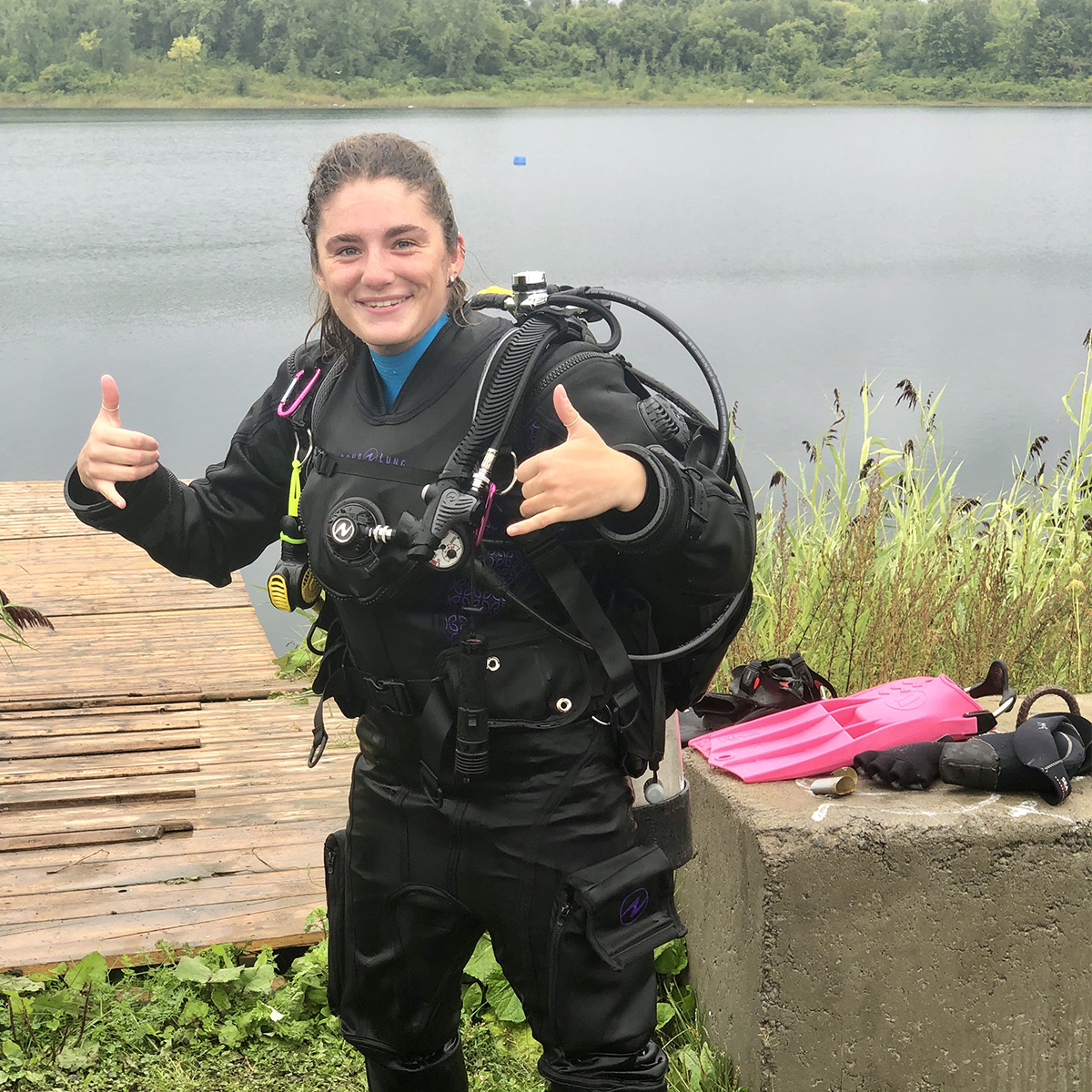 Today I want to describe what it's like being a Divemaster over a certification weekend. A few weekends ago, a couple other Divemasters in training and I assisted a group of divers doing their Open Water Certification, and another doing their Advanced Open Water Certification. The weekend was full of laughter, organization, and of course, diving. It was a wonderful weekend, which truly portrayed the typical dive weekend of a Divemaster, so obviously I had to write about it. Let's go! 
An overview
Heading into the weekend, I started planning out my days: Saturday morning Open Water class, the Advanced in the afternoon. Sunday morning the Open Water class part 2, and fun dives in the afternoon. I prepared a lot of food to take with me to Kahnawake (enough to feed 10 people, but I figured better have too much than not enough). I brought bread, fruit, cereal, fruit juice, candy… I had a whole bag. Then I prepared my dive bag: all the essentials (BCD, regulator, computer), a wetsuit AND a drysuit because who knows right? About 5 changes of clothes for the drysuit… You can imagine the amount of bags I carried. But it's also what made it exciting! And then came the Saturday morning, and the beginning of an incredible weekend. 
DM life
As a Divemaster, your primary function is to help. This means help students, fellow divers, instructors, other divemasters… You're a constant resource available to all. It's very gratifying to be able to help around, to answer questions, to organize gear, but it's also a little frantic. 
Arriving at 7:15am at the Quarry, the day began with assembling our own gear - get it out of the way before the students arrive. We also made a quick jump in the water to go install a new buoy at the end of the platform. 3 minute dive at 7:30am...nothing like it to wake you up. 
Students usually arrive around 9:00am, set up their gear, get dressed, do paperwork… the day begins to warm under the rising sun, and everything gets set up. Once everyone is ready, the briefings start: instructors and divemasters are introduced, exercises are explained. Then the groups get decided and off into the water we go! 
A divemaster in the water has eyes on all students, and is always close enough to grab a popping diver, communicate with the instructors, and just be there to help anyone at anytime. Instructors introduce you as the safety person, and that really is the essence of it. 
The DM life is a lot of work, a lot of responsibility, and a lot of gratitude from everyone you help out. Instructors thank you for helping them organize it all, students thank you for your advice and support. It's a gratifying job, and a wonderful way to fill your weekends. 
Oops…
I realize that this is a bit dated, and I started writing this at the beginning of the summer. The thing is I got really really busy with the divemaster life. And there was no time to write about it! That's how great it is!
Some good news: a lot of the divemasters in training that you dove with this summer are now certified! And now we are starting the instructor training! 
These series have been a little shortened by the overwhelming amount of time divemaster duties require (when you are very dedicated), but soon the Instructor Chronicles will start! And I promise I'll be a little bit more timely! 
In conclusion, I hope you all had a wonderful summer dive season and are ready for this winter season!! Let's go ice diving!! Woohoo!! 
Best to all divers in Montreal and everywhere else in the world!
Leave a comment