Login
Log in if you have an account
Register
Having an account with us will allow you to check out faster in the future, store multiple addresses, view and track your orders in your account, and more.
Create an account
The Divemaster Chronicles
Chapter 2: The Preparation
06 May 2019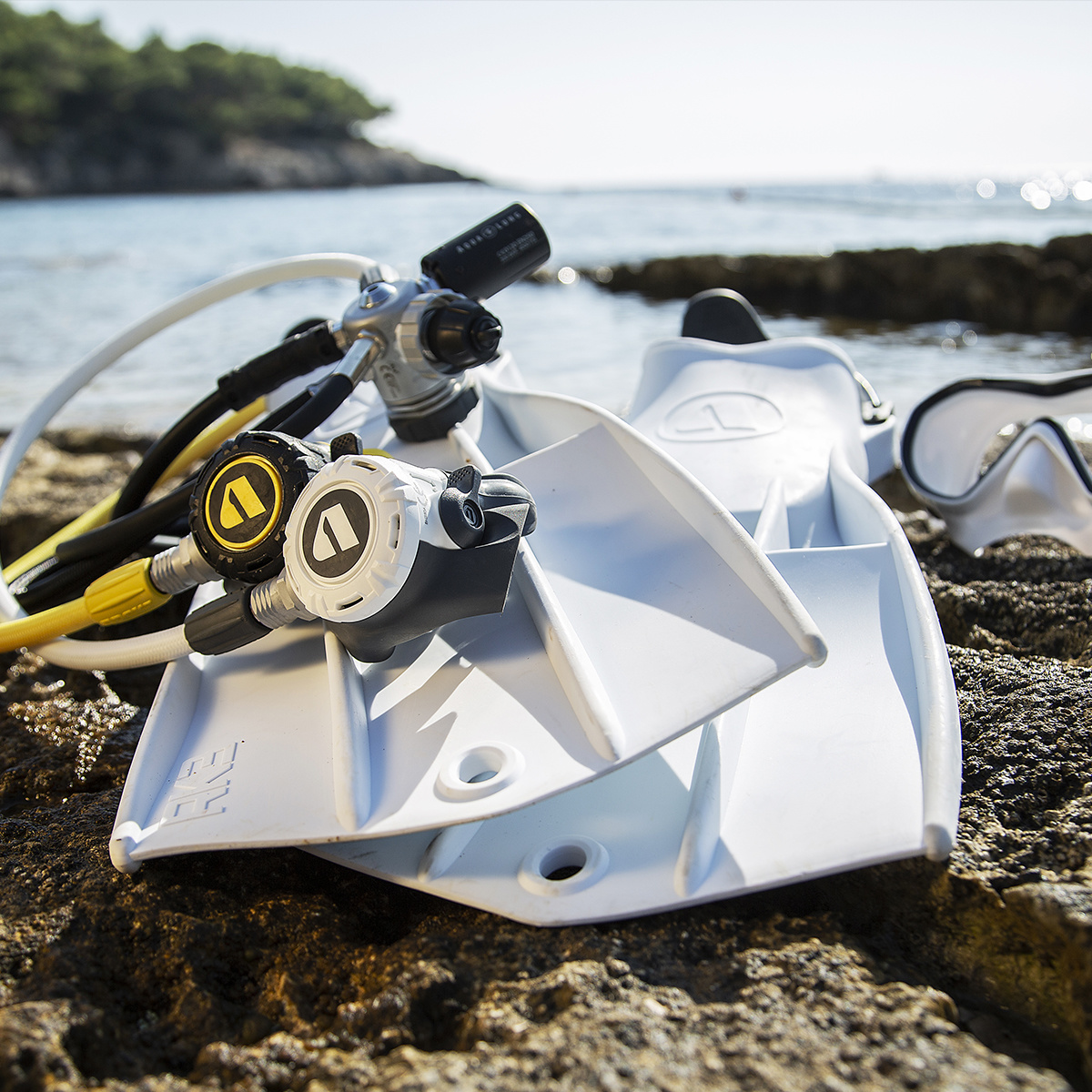 Everytime I went diving while on vacation, there would always be that one person on the boat that would arrive with an enormous Aqualung bag, filled with 5 masks, 3 pairs of fins, the coolest BCD, a shiny new octopus… And I would gawk wishfully while putting on my faded rental gear thinking, 'now that is a professional diver'. When I started diving, no one told me I should buy my own equipment, renting seemed a perfect solution, particularly since I travelled a lot. The thing is, rental equipment is expensive, up to 100$ a day for a full kit, and it's often very worn down and uncomfortable. Also, money-wise it's a complete waste but I'd rather not remind myself of that. After a particularly foggy dive, I actually bought my first piece of equipment: the Atomic Aquatics Frameless mask, and I love it.
As I am starting my Divemaster course, however, I am theoretically becoming a professional diver. So I need the awesome equipment that will make other people on the boat jealous. Of course, buying diving equipment is a huge investment, especially since I'm a college student with very little money to spare. But it's an investment I want to make, and I thought sharing the thought process of how I picked the elements of my diving kit would be interesting. So let's start!
The Fins
I know, I know, it's horrifying that I don't even have fins yet. Just bare with me. The evident model to choose are the RK3s. Small, compact, precise, they are the perfect fins for professional divers. Their design is made to increase their propulsion capabilities as much as possible, while keeping a very precise movement ability. Therefore, they are the perfect fins for more technical diving, such as wreck or cave diving, and as a bonus, they are still very efficient on a reef. They are also the best fins to perfect the frog kick swimming style, which is another characteristically professional thing. Also they come in so many colors! I'm feverishly hesitating between going for a yellow or a pink kit, let me know in the comments what you think!
The BCD
This one took a little bit more reflection. I simply love the Rogue, for its lightweight and minimalist design, and how convenient it is for travelling. Sadly, for a divemaster course and the type of diving done in Québec, it is not ideal. The Black Ice on the other hand, is sturdy and indestructible. A back inflate leaves plenty of room for wide pockets and ultimate comfort. The many D rings make it a perfect BCD for divemasters and instructors, who sometimes have to carry a lot of extra equipment. Although it is rather cumbersome for travelling, it can be used in both warm and cold water, which is exactly what I need.
The Computer
Alex and I (a fellow divemaster student and writer of blogs, and he will be featured on these chronicles later on!) had many many long arguments about which computer is the best. When looking at computers, I looked for one with the best reading options, and the possibility to link up to a transmitter. I had a few options: the Perdix, the i450t, the Teric, the EON core, the D5 series, the i770r, the Vyper Novo… To be quite honest, I still haven't exactly decided. With so many great options, can you blame me? Keep reading and eventually you will know ;)
The Regulator
I'm including all the things linked to the first stage in this part. The Legend LX Supreme is my go to for this one. The breathing is easy and smooth, it's compatible with a transmitter, and I love the way it looks. For octopus, the Aqualung ABS octopus, because it is small and compact, and also on the less expensive side. The transmitter I'll use goes with the computer so I hold judgment on this one as well.
Conclusion
We have a pretty good base here I think! Of course, I plan on building this throughout the summer, and expanding with future years. Eventually I will get the new Aqualung Explorer II:Roller because I absolutely adore that bag. Also a lot of hooks because they make me feel professional. Today was my very last day of finals, I have officially completed my first year of University! So to celebrate I am buying my RK3s and boots!!
The journey truly begins now… I hope you enjoyed this week's Divemaster Chronicles update, and I hope to see you at the pool! Or the Quarry very soon! Or even at the shop!
Have a wonderful day and enjoy the much awaited sunlight we are being blessed with!
WHO IS TOTAL DIVING
Since 1975, Total Diving has continued to provide exceptional services to the scuba diving community. We are the Canadian leaders in diving, and have been Aqua Lung and Apeks' #1 retailer for the last four years. Our online store provides you with everything you need, without having to come by our signature flagship location in Montreal. As a diving school, we teach our students with great care, and as a world-renowned PADI Career Development Centre, we develop outstanding instructors and divemasters. Stay up to date with diving news, products, and the Total Diving community by reading our blogs. We aren't just a store, we're a family that only gets bigger with each new diver.
Leave a comment