Login
Log in if you have an account
Register
Having an account with us will allow you to check out faster in the future, store multiple addresses, view and track your orders in your account, and more.
Create an account
Start Here in Montreal, Dive Anywhere!
10 Dec 2019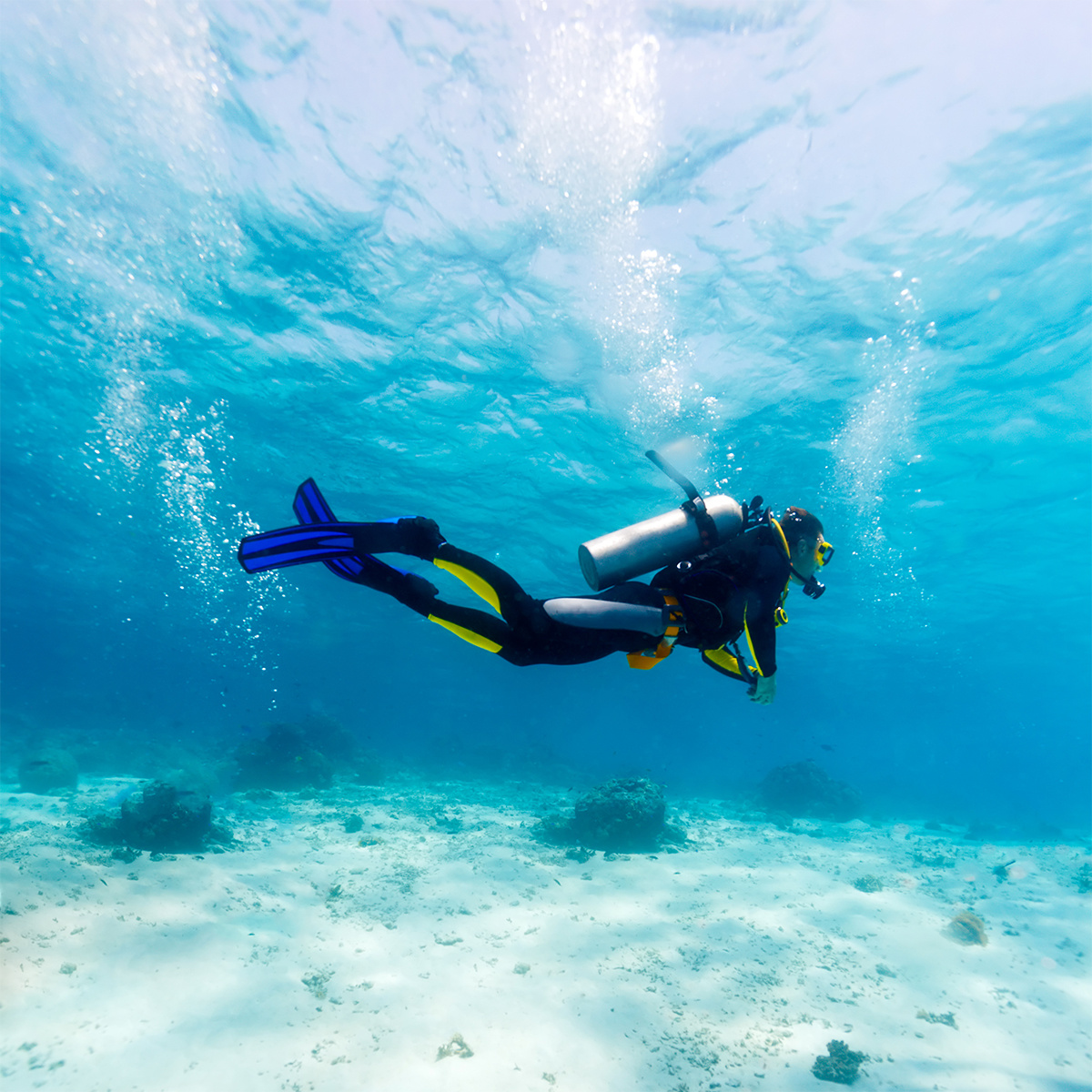 Total Diving is committed to creating memorable experiences. It's why we do what we do! To some, scuba diving might seem like a difficult sport to get into, but that's why we're here. At Total Diving, we have a plan to get you from your desk and into the water in three easy steps: theory, pool, and open water.
We understand that although Montreal has many great dive sites worthy of exploration during the summer months, sometimes diving just can't wait! That's why we're committed to getting you set up in Montreal so that you can go on your vacation knowing exactly what you need to do to become a PADI Open Water Diver. But why would you decide to start your training in Montreal and finish down south in the sun instead of just getting it all done there? Here are some reasons why choosing Total Diving, even if you decide to get certified down south, will make your diving experience easy and fun!
eLearning
In an effort to go paperless and save you time, Total Diving has switched all our Open Water Diver theory packages into PADI eLearning! This means a few things for our students: first, you'll get access to your Open Water Diver textbook online so that you can study wherever you go. Second, the textbook updates automatically when PADI changes it. Third, say goodbye to sitting in a classroom for hours before hitting the water! Because everyone in your class will also have eLearning, all you need to do is show up to the pool having completed the program. This will save you at least 9 hours of classroom time, plus who doesn't like getting to choose their own schedule?
Our Team
At Total Diving, we have a training team of over 30 instructors, dive masters, course directors, and more. Everyone that gets invited to join us brings something special to the table, which means our pro team is always ready to get divers into the water. Although the service might be great down south, there's just something more comforting about having our bilingual staff get you through the theory and the pool! Our clients often come back for more advanced training after meeting some of our instructors, so why not see what all the hype is about?
Heated Pool
Worried about doing getting in the pool in Montreal in -40°C weather? You don't have to be! We only rent out high-quality heated pools to make sure all of our future divers are comfortable.
Save Time Down South
Your theory and pool training is vital to your success as a diver, so why rush it down south when you'd rather be sipping a margarita by the ocean? Don't force yourself to learn safety measures when instead you could be taking advantage of the sunny weather! Starting your training in Montreal means that all you have to do when you get off the plane is to get out into the open water to finish your certification. No need to bore yourself with reading. Plus, reading while you're in Montreal will just make you more excited to get into the water.
Not only will you save time, but you'll also in return, get more time to actually go diving! Instead of wasting a few days moving through the theory and pool exercises, you can go ahead and explore the world.
Easy Transfer
If you're wondering how Total Diving gets all your information to the right people so that you can easily switch diving schools, then you've come to the right place. First, our instructors sign off on everything you will need to present to any other PADI-certified dive school before you get there. Second, our store staff will give you a photocopy or a scan, whichever you prefer, of your PADI-standard folder. Third, if you need any other measure of proof, we're always on standby to vouch for you! There's no hassle, just remember to ask us for your folder. Plus, we always keep copies so that if you need to access your records, all you need to do is call us.
Exceptional Equipment
For our confined water class, Total Diving requires that you come prepared with your fins, mask, snorkel, and booties. Though this equipment can sometimes be rented in the south, we ask that you have your own stuff for the course. Why? Because the fit will be exceptional, and you will get more out of your experience underwater. So how does this translate to diving down south? Our equipment experts will help you find the right equipment that can be easily transported on the plane with you, and will be suitable for diving in Quebec and in the south! This means that you 
won't have to buy special fins for the south, or rent out fins that may not have been properly cleaned. It's a win-win situation.
Not only is it easy to get your theory and pool done in Montreal, it's also advantageous for you! Let the experts at Total Diving help you create a flexible plan to get you in the water- at no extra charge.
Leave a comment