Login
Log in if you have an account
Register
Having an account with us will allow you to check out faster in the future, store multiple addresses, view and track your orders in your account, and more.
Create an account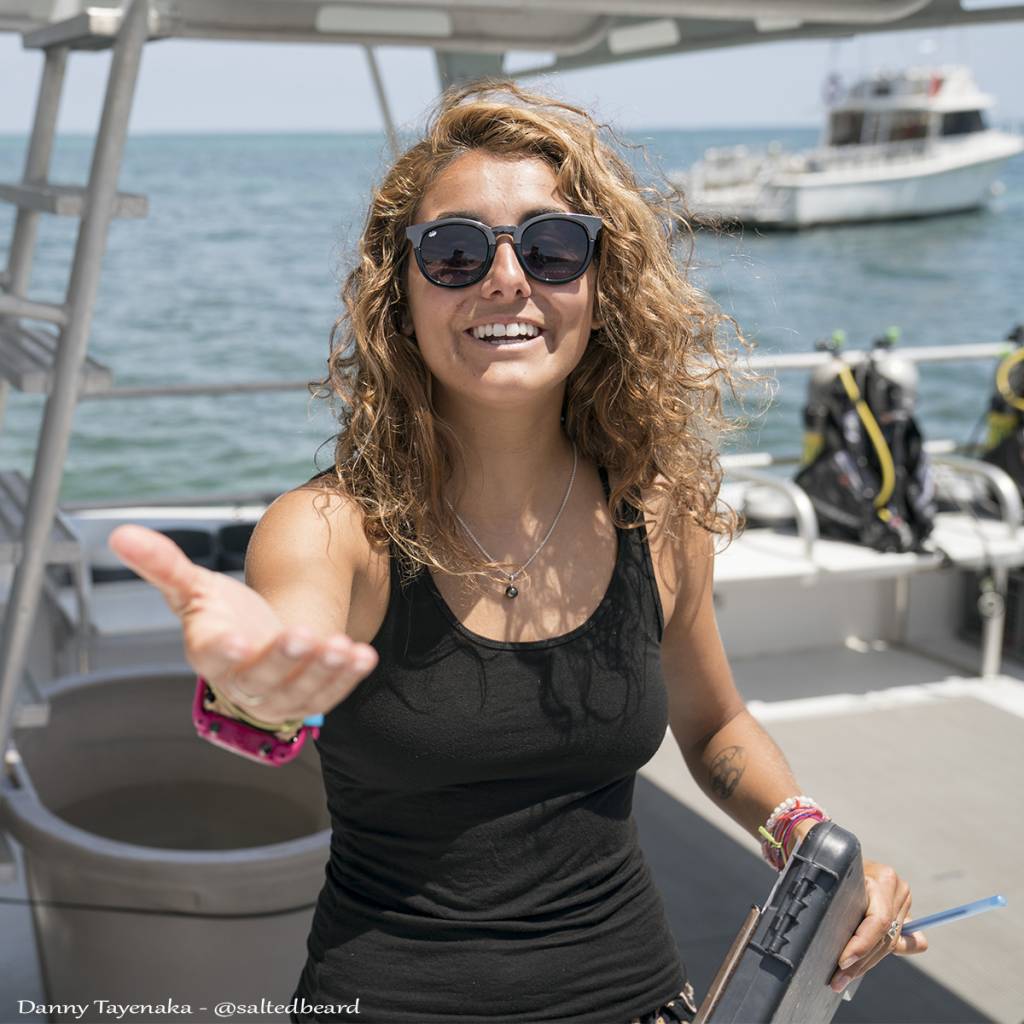 Sarah Gauthier, better known on Instagram as Scuba Sarah, is a 26 year old diver with a vision to change the way we think about our environment. And she wants everyone, especially all divers, to do their part to help! To help raise consciousness about the oceans, marine life, and Mother Earth, Scuba Sarah decided to do a tour of all 7 continents. She's made it through 6, and plans to leave for Antarctica in the near future!
Humble Beginnings
Sarah Scuba began diving years ago when she spotted a flyer at her university in Montreal advertising diving courses. Her mom was also already a diver, which made the offer all the more enticing. Listening to the great stories her mom told her, she took advantage of the opportunity to gain her PADI Open Water Diver certification so that she could officially become her mom's dive buddy! Her first real diving trip was to Hawaii, but not before she could dive in Quebec to test out the waters. At first, scuba diving was just an exciting way for Sarah to explore the world, like it is for most of us. She later finished her IDC in Honduras and officially became an instructor.
Three years ago when living abroad in Indonesia, Sarah discovered a way she could keep family and friends updated on her diving expeditions. By blogging and documenting her experiences, she was able to keep everyone in the loop while also having a way to remember all the fun details about each dive, trip, and moment.

Grand Cayman
As Sarah became more experienced, diving became something completely different for her. While touring in Grand Cayman, she saw firsthand the impact that pollution has on our reefs and oceans. It just struck a chord, and she's been on a mission ever since to raise awareness about what she saw. The unfortunate part is that Grand Cayman is far from the only place where beaches are littered with plastic and other trash. Environmental problems are not confined to one area of the world. This is what Sarah had in mind when she had the idea to spread the word about keeping the planet clean.
At first, her idea to travel the 7 continents was more of a personal goal. Something she'd be able to talk about when on a liveaboard, or to her friends back home. All of that changed when she found out PADI was filming footage in Grand Cayman. A close friend of hers alerted some of the PADI producers about the project she was planning, which led to them contacting her. PADI was able to spread Sarah's message like wildfire, which allowed her trip to become a sort of cultural phenomenon. People liked her message.
When PADI's video starring Sarah came out, it got people talking. She was able to gain the platform she has today through both that publicity as well as by her own networking. By talking to guests on resorts, on boats, and everywhere in between, Sarah organically grew her presence online.
Personal Philosophy
Scuba Sarah didn't become a figure in the diving community for nothing. She has a strong personal philosophy that she keeps in mind whenever she travels and updates her following. She believes that the best way to solve the environmental problems she saw abroad was to lead by example. It's up to each and every one of us to take charge of the fight against pollution. It's something we can't just leave for the next generation to worry about anymore. Sarah also believes that instead of showing off dead turtles, polluted beaches, or other highly negative images, we should be showing off the positive it'll have a better impact. Show off our beautiful reefs, wrecks and wildlife, the things that only divers get to experience, and you'll have a better chance at getting people to change their wasteful habits. Although we shouldn't disregard the negative, it's about not making people feel guilty for the mess that has been made. Show off what needs to be protected, and people will feel more empowered to make a difference.

6 Continents Done, 1 To Go
Sarah came back from the first leg of her adventure only a few weeks ago. Her favourite experience so far is that each and every area she visited was special. Water from 3ºC to 32ºC, from dry suits to just a bikini, every experience was different. The marine life was stunning, and the people were hospitable and warm. This experience showed her that, as cheesy as it sounds, no matter the colour of your skin, your religion, or your background, people all have the same goals in mind when it comes to the environment. The whole diving community knows that the effects of climate change and pollution are debilitating for our sport. Anywhere Sarah took her message, people were responsive. Her favourite example was when she was in Egypt. As the only woman on the boat, she was able to capture the attention of all the men on board with her stories and her philosophy.
The greatest challenge she faced on her trip was that she was alone. She felt the need to take on this adventure on her own to prove that one woman can truly make a difference. It wasn't always as easy as she makes it seem to her followers. The thing that stood out the most to her was the amount of adaptation she had to do. Different weather, climate, environment, people, and more made it less than simple to change completely. It was very tiring, but definitely worthwhile.
Seeing the positive in every situation was also difficult. She preaches about showing off what's beautiful, but it's hard to not get discouraged when seeing the damage up front. Some days she didn't know if her journey was worth it, but what made all the difference was the ongoing support from friends, family, and most of all, strangers. Getting messages through different social media platforms cheering her on is what got Sarah out of bed on days where she was discouraged.
The diving was almost as challenging as the trip itself. Although Sarah has lots of experience as an instructor, not all her dives were easy. In Iceland, she had trouble not touching an underwater chimney with her bulky drysuit. In Indonesia, she had some emergency situations. But that's all in a day's work when it comes to diving at this level. It didn't stop her for even a second.
Sarah will be on her way to Antarctica in the near future.
How Divers Can Help
Sarah believes that divers can help change the perception of pollution, as well as the problem itself. She gave some tips on how to help the environment. The most important rule was to lead by example. She explained that if you're lucky enough to see the underwater world first hand, then you should be a leader. Second, don't touch anything while diving! This may seem like a simple rule, but it's a golden one. Third, pick up trash when you see it. Whether you're on the beach, or you see something strange floating by, just pick it up. It's easy and will help even if it's only one piece of plastic. And finally, try and change your day-to-day lifestyle. Use a bamboo toothbrush, cut down on use of wasteful plastic like straws, plastic bags, and other things. These are easy changes, and alternatives are becoming more and more popular. It'll reduce waste, and spark conversation!
Scuba Sarah might just be one girl on a mission to raise awareness, but she's taking the world by storm and wants you to help her. As divers, we get to experience the water like nobody else. So, we should be the ones to lead the fight against pollution, by sharing our experiences, tips, and other information. It will take a group effort, but who better than divers to bring about much needed change.
Who is Total Diving
Since 1975, Total Diving has continued to provide exceptional services to the scuba diving community. We are the Canadian leaders in diving, and have been Aqua Lung and Apeks' #1 retailer for the last four years. Our online store provides you with everything you need, without having to come by our signature flagship location in Montreal. As a diving school, we teach our students with great care, and as a world-renowned PADI Career Development Centre, we develop outstanding instructors and divemasters. Stay up to date with diving news, products, and the Total Diving community by reading our blogs. We aren't just a store, we're a family that only gets bigger with each new diver.
Leave a comment