Login
Log in if you have an account
Register
Having an account with us will allow you to check out faster in the future, store multiple addresses, view and track your orders in your account, and more.
Create an account
Scuba Diving near Montreal? Yes.
19 May 2019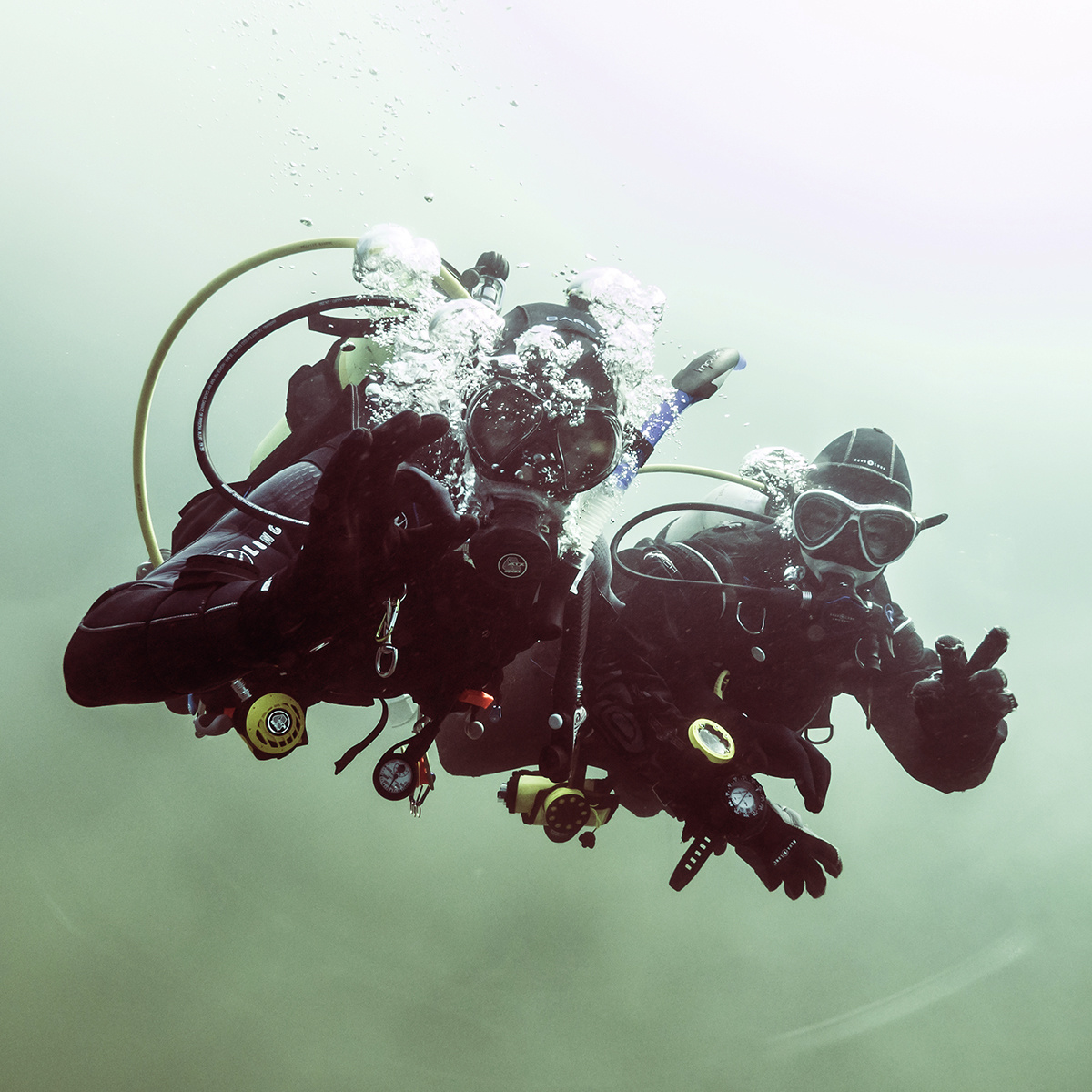 When most people think scuba diving, they think of the transparent waters of the tropics, filled with colorful fish and vibrant reefs. They think boat dives and surface intervals in bikinis with fresh fruit. Scuba diving in Canada? During the brutal winter months? Impossible. But no, it is actually very possible, and diving around Montreal is an experience unlike any other, which will bring you incredible diving as well as new expertise. Dive in Canada, dive around Montreal and you will become a better, more experienced and more varied diver.
Where?
Now I've just told you that Scuba Diving in Montréal is not only possible, but it is also incredible. The next question is where to go. There are multiple places to visit, depending on how far you're willing to drive, and what you like seeing underwater. From wrecks to flowing wildlife to powerful drifts, Canada has everything to offer. Now let's look at our options:
The resourceful Kahnawake Quarry (15 minutes)
The Kahnawake Quarry is perfect for a quick diving trip, a skill refreshing dive or a fun afternoon with the fishes. The quarry is the only water hole in Montréal which supports a wide array of wildlife! As deep as 30 meters, and as close as 15 mins from the Total Diving store, the Kahnawake Quarry is perfect for divers of all levels who are looking for a fun dive right next to home.
Ice Diving in frozen lakes (1-2 hours)
The most prominent feature of Canada is the unforgiving winter months, and the impressive amounts of snow that cover everything. Now this is perfect for ice diving. Ice diving is an exciting type of diving, where the main focus is on the thick slice of clear and blue ice above you, and skittering bubbles trapped under the surface. Ice diving is an incredible experience, that very few are lucky enough to experience, yet Canada makes it the most accessible activity. Ice diving can essentially take place in any frozen lake, so the options are endless. For more information on ice diving, feel free to check out our other blogs and look at the videos we were able to film during our last trip in the Laurentides!
Going South: The wrecks of the Saint-Lawrence river
The Saint-Lawrence river is a jewel for scuba divers. Filled with thousands of wrecks and sunken artifacts, it's a diving paradise. Thankfully, the closest access to the river is only 30 minutes away from Montreal, making it an ideal spot for passionate wreck divers, and new divers wanting to experience a different type of diving.
Lake Saint-Francois (30 mins)
Lake Saint-Francois is quite literally a scuba diving playground. Only about 30 minutes from Montreal, it presents a variety of depths and wrecks to explore, a perfect spot for Open Water divers to begin their dive journey, and more experienced divers to discover new places. The depth range is from 3m to 25m, with wrecks scattered throughout the range. The most famous ones, a little further down from the scuba park: the Mia Perla, a 13m yacht sunk in 2008, and the Lockheed L-18 Lodestar, a bimotor plane from 1942, with an impressive 20+ meter wingspan.
Closer to Ontario (1-2 hours)
Travelling further down the Saint-Lawrence, you will encounter thousands of wrecks, from different periods of time, at different depths, and with different stories. Past Cornwall particularly you can cross the underwater Hopple Bridge, an incredibly well-preserved bridge that was destroyed in the 1958 flood.
A personal favorite of most Saint-Lawrence divers is the Eastcliff Hall wreck, a 105 meter cargo ship. The wreck is found at a depth of 22 meters, making an Advanced certification level required for the dive. The wreck, impressive in its grandeur is a must-visit if you plan on exploring the Saint-Lawrence wrecks of Canada.
Farther South: The swirling dive of the Lock 27/28 (3 hours)
This thrilling dive combines drift diving, with two impressive wrecks, and movement that you've never experienced before, guaranteed. See the picture for reference as I take you through the flow of this incredible dive, informally known as the Torpedo run.
After a good 3 hours drive from Montreal to Cardinal, you park your car and gear up. You walk to the red X, where you enter the chilly water. The first white X is the Wee Hawk wreck, a small boat you quickly swim through. You catch the current which drifts you through the tunnel and away from your entry point. It turns sharply and for a few seconds you are lost to about 10 knots of current. Staying rather shallow, the current calms and brings you all the way to the Conestoga wreck, a shallow 8 meters steamer that sank in 1922.
Although the site is a little far, the experience is definitely worth the travel time, and is highly recommended by all who have been there.
Going North: The vibrant diversity of the Escoumins (6 hours)
The Escoumins are famous for their colorful and breathtaking wildlife. From whales, to seals, to krill, to anemones, the floor of the escoumins is dotted with colors of varying shapes and sizes, inhabited by fish and other marine life of all kinds. Diving in the escoumins guarantees breathtaking dives with incredible encounters. Vibrant and amazing underwater dives, perhaps playing with an outgoing seal, and surface intervals spent watching surfacing whales and their magnificent water sprays. The mix of salt water from the Atlantic ocean and freshwater from the Saguenay river creates a perfect environment from krill to bloom, and hence for whales to feed and reproduce. The high concentration of wildlife makes the slightly longer journey to the Escoumins worth every minute.
Farther North: The wonderful Comeau Bay (8-10 hours)
A little farther North than the Escoumins, but gaining in beauty of color and diversity, the Comeau Bay offers refreshing and infinitely beautiful diving. Total Diving does trips to this location once a year, simply because of how amazing it is!
Far East: The impressive sizes in Gaspésie (12 hours)
And finally, Gaspésie, a local favorite spot due to the immense sizes of anemones and incredible wildlife found in its waters. Maybe of our instructors name Gaspésie as their favorite dive spots in Canada. L'ile Bonaventure is a specific dive spot that must be explored if you decide to take a trip all the way up to Gaspésie, where you will have an incredible diving experience which may become a top favorite for you as well!
Adapting to conditions
Now that you know there are so many options to dive around Montreal, your next question  that needs to be resolved is, but the conditions.
Obviously diving in Canada is cold water year-round. Because of this you need specialized equipment to keep you warm so you may still enjoy the experience. If you are one of those otherworldly humans that can dive in freezing water with a wetsuit, well congratulations I am quite jealous. For most people however, we will need a drysuit, hood, gloves, many many layers ect ect. Diving in cold water may seem scary, but with the right equipment, the cold is the last of your concerns. So gear up properly, or rent the adequate equipment, and you will not be bothered by the coldness of the water.
Drysuit certifications are a must if you plan to dive regularly in Canada, as you must have one to rent a drysuit. So find some time to quickly get that certification and start your cold-water dive journey!
Conclusion
In conclusion, Canada has a lot of varied and amazing diving available for all levels of divers. You can find fun and general diving as close as 15 minutes from Montreal, or more specialized dives a few short hours away. If you head South and into the Saint-Lawrence, you'll be drift diving among impressive wrecks, while if you head North, you'll be baffled by the colorful and vibrant diversity, as numerous as any South reef diving. So join our facebook page Total Diving Buddies or visit us at the shop to see what upcoming trips are planned, and to get advice on your next dive trip near Montreal!
WHO IS TOTAL DIVING
Since 1975, Total Diving has continued to provide exceptional services to the scuba diving community. We are the Canadian leaders in diving, and have been Aqua Lung and Apeks' #1 retailer for the last four years. Our online store provides you with everything you need, without having to come by our signature flagship location in Montreal. As a diving school, we teach our students with great care, and as a world-renowned PADI Career Development Centre, we develop outstanding instructors and divemasters. Stay up to date with diving news, products, and the Total Diving community by reading our blogs. We aren't just a store, we're a family that only gets bigger with each new diver.
Leave a comment