Login
Log in if you have an account
Register
Having an account with us will allow you to check out faster in the future, store multiple addresses, view and track your orders in your account, and more.
Create an account
Rogue Dive BCD Review
17 May 2019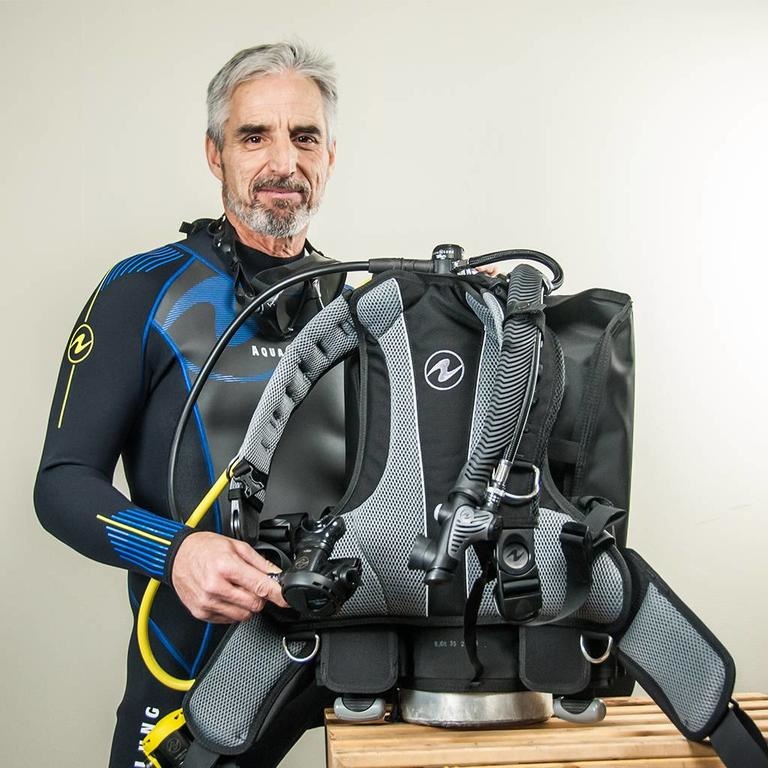 WATCH THE VIDEO
Finding the right equipment to use can be a hassle. There's tons of selection on today's market. From choosing the right brand, to the right fit, to the colour, the features, and more, there's no shortage of selection when it comes to choosing diving equipment. Total Diving works hard to help you find the right piece of gear, whether you're a travel diver, a weekend-warrior, or just starting out.
Owning your own BCD can seem like a big step from buying only the basics. It also might seem like a big financial commitment. However, it's easy to choose the right BCD at the right price when you have all the proper information. This blog is concerned with introducing Aqua Lung's Rogue, a BCD that has been tried and tested by the Total Diving community. The Rogue is part of a special group of equipment in our store. It's one of the pieces of equipment that is almost universally loved by our clients, our instructors, and our staff.
Back Inflation- The Basics
The Rogue is a back inflate style BCD. While only inflating in the back, a stark difference from the jacket-style BCD, it can take a few dives to get used to, but fundamentally your trim underwater will be better, making you more streamlined so that there's less drag from the BCD. Back inflates will also help maintain better horizontal body position underwater, will use less air than a vest style BCD, and is less obtrusive so you are freer to move around in the water. The only real con to a back inflate BCD is that if you're not used to diving in one, you need to practice keeping yourself afloat at the surface. Once you get the hang of the new style, you will be enjoying a lot more perks than the traditional jacket inflate.
ModLock Connectors
The Rogue uses Aqua Lung's patent pending ModLock connectors. This feature allows divers to change out different parts of the BCD, such as a arm straps, the pockets, and more. For example, if you purchase a size medium bladder, but need longer straps, you can order a large in order to feel more comfortable. There are 27 possible sizes to be made, so that you can find the perfect fit for you. Alternatively, if only one small part of your vest breaks or becomes worn down, you don't have to replace the entire product. These ModLock connectors are simple to use, and allow you to deconstruct and reconstruct your vest when needed. If you need to squeeze your vest into a smaller space, taking it apart can help. This feature makes the Rogue part of a great family of travel-style scuba equipment. This BCD is light and can be taken apart, so what's not to love?
GripLock Tank Band
Part of the newest edition of the Rogue is Aqua Lung's all-new GripLock Tank Band. This finger-saver feature is the perfect solution for the old tank band problem. Say goodbye to pinching your fingers, having your bottle slip, and all the other irritating problems that come with a BCD with a tank band that isn't strong or secure enough. Aqua Lung's macro presets create the easiest and safest tank band yet.
Minimalist Design and Additional Features
On top of all these great features, the Rogue has an attractive minimalist design that will make you look like a pro. The accomplished diver who knows exactly what they want will adore the Rogue because of its combination of features, style and design. Other features on the Rogue include the SureLock II weight pockets, 2 folding pockets and stainless steel D-rings. This BCD comes standard with all the features, bells, and whistles you want but without the nonsense you don't need.
Total Diving is excited to bring you more content about the gear that allows us to dive like we're fish. All of the best equipment that we promote daily in our store will be covered in order to give back to our community and show off why we are committed to helping out our diving community.
WHO IS TOTAL DIVING
Since 1975, Total Diving has continued to provide exceptional services to the scuba diving community. We are the Canadian leaders in diving, and have been Aqua Lung and Apeks' #1 retailer for the last four years. Our online store provides you with everything you need, without having to come by our signature flagship location in Montreal. As a diving school, we teach our students with great care, and as a world-renowned PADI Career Development Centre, we develop outstanding instructors and divemasters. Stay up to date with diving news, products, and the Total Diving community by reading our blogs. We aren't just a store, we're a family that only gets bigger with each new diver.
Leave a comment